Robby Cook wasn't sure what he wanted to do with himself after high school. He'd always enjoyed drawing, design, and cartoons. He thought that applying at Austin Community College (ACC) in Texas might help him get into the graphic design field. He met with some faculty who pointed him to the ACC's animation curriculum. He found exactly what he was always looking for.
Cook takes all of his talent and knowledge to work each day as an Assistant Character Designer and Retake Animator for Titmouse, the company that CBS All Access charged with creating the latest version of the mythos — Star Trek: Lower Decks.
He says that working on Star Trek is really something special, and getting to draw for a living is a dream come true. Cook says that he was introduced to all things' nerdy' at a young age by his father, who worked in the video game industry. These geeky pursuits included classic animated cartoons.
"He always would show me Chuck Jones cartoons like "Bugs Bunny," "Tom and Jerry" and "How the Grinch Stole Christmas,"" says Cook. They also read and re-read Rudyard Kipling's Rikki-Tikki-Tavi, which has been made into several animated movies and shows since the 1970s.
After his time at ACC, Cook got a job with a small animation company. While it was great to have work in his field, he says that he learned much from the boss, who served on big-budget animated productions like Prince of Egypt and Quest for Camelot. Though he stayed for just a year and a half, Cook says he learned a great deal, which prepared him to work at Powerhouse Animation in Austin.
It was there that Cook was able to work on some incredible projects, including Netflix's Castlevania show and some work for Disney and former NFL star Martellus Bennett.
A few years ago, Robby and his husband, Zachary Vernon, packed up and moved to the West Coast. Zachary continued his academic career at Cal State LA as an art professor. At the same time, Robby got to work looking for his dream animation job in Hollywood.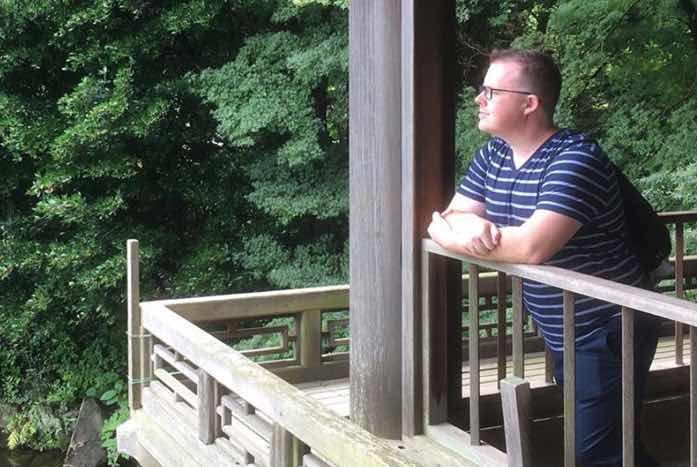 You may have heard the cliche that "change is only possible through movement." This is precisely what happened to Robby. He made a few friends and found work here and there, but heard rumblings about something big. One friend, in particular, who happened to work in the same building that Cook worked in at the time, was keeping a big secret.
"I happened to see this friend of mine, and I asked him, 'what are working on?' He said 'nothing'," says Cook. "It was so secretive at the time like they weren't allowed to say that they were working on.
"I said, 'Oh, OK.' And then it wasn't until they announced Lower Decks at San Diego Comic-Con that my friend said, 'Oh yeah, that's what we're working on!"
Cook made it known that he wanted to get in on this new show since he had been a Trek fan for years.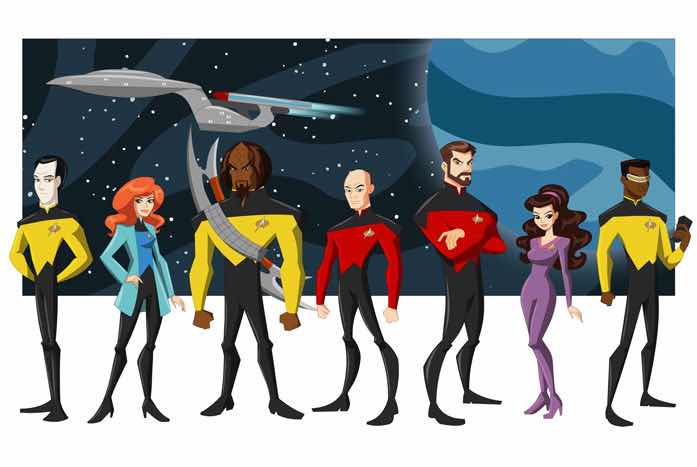 "I watched Star Trek, especially The Next Generation," notes Cook, who says that TNG was in the regular rotation of shows that he made a point to watch regularly growing up.
Thanks to his friend, Cook was able to become part of the Titmouse team of talent, first as a character design assistant, then in animation.
Cook says that including the action shots, he would be asked to animate a character's head-turning in one direction to the other, and similar motion-type drawings for the various characters, including the main four.
While the bulk of the animation for Lower Decks was done at either the Toronto or New York studios, Cook stepped in in special situations when the animation needed a few specific touches.
"In television [animation], you have to take on whatever is given to you," says Cook. "You'll have someone that does like the more dynamic shots, and you'll have someone that really is like a good draftsman and action fight sequence type person.
"I did a couple of action shots," says Cook. "Of course, the action shots are really cool and very quick, but they're not on screen for that long."
"It's always like — oh, hey, that was like 12 frames of drawings that kind of go by in an instant!"
"It's always like — oh, hey, that was like 12 frames of drawings that kind of go by in an instant!"
And while he did not work primarily on one character or even one type of animation on Lower Decks, the process of animation itself is what Cook enjoys the most.
"I love getting in there and making things move," says Cook. "I really like that just because it takes a drawing and know it gives it life. Being able to see things move on the screen like that is fun."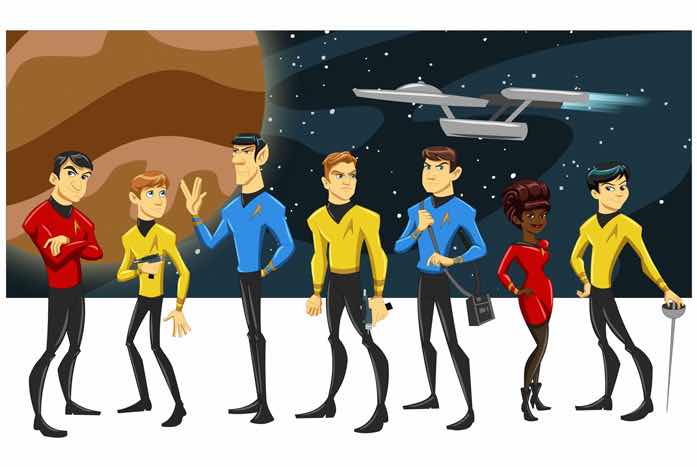 Robby's enjoyment of the craft is obviously seen in his work, but his boss, Barry Kelly, has seen Cook at work in person. Kelly is the Supervising Director and Episodic Director for Lower Decks and worked alongside Cook through the production's early days.
"Robby is a super talented character designer and animator," says Kelly. "He's a pleasure to work because he gets 'it.'"
"I can verbally explain a feeling I'm trying to convey for a scene, and he can understand all my excessive babble. It's great when you can have a verbal shorthand with artists like Robby; they make my job easy and make the show better!"
"there's also just something really funny about Dr. T'Ana!"
If you press him, Cook will admit which Lower Decks character is his favorite. And you might not be able to guess who it is.
"It's either Mariner or Tendi," says Cook. "But … there's also just something really funny about Dr. T'Ana!"
"There are some lines that she has throughout the show that are just so funny," says Cook. "The show definitely is about the Lower Decks four, but the 'up and ups' definitely have some moments where they are just hilarious!"
For Cook, working on a show like Star Trek is a dream come true, but he says that it can be a little intimidating.
"I love Star Trek, but I don't consider myself a Trekkie because I haven't honestly watched all of the series," says Cook. "I haven't watched Deep Space Nine, and I know there are people that have been in the Star Trek family a lot longer than I have."
"I just feel like I want to be a part of that Star Trek family, too."
Star Trek: Lower Decks is available in the U.S. on CBS All Access.