Michael Dorn is the record holder. Fans like to talk about his character and how his character, Mr. Worf, appeared on more Star Trek episodes than any other — even Spock. Worf was on 175 episodes of Star Trek: The Next Generation and was brought in to boost Deep Space Nine's ratings. He appeared on 102 for that show.
No one seems to mention that the man who brought Worf to life was almost entirely nothing like the character. Worf is a proud Klingon warrior who cares not about feelings. Honor for Worf is absolute.
Dorn, on the other hand, is a gentleman in every sense of the word. It is remarkable to talk to Dorn and realize that he transformed himself into the snarling Klingon for nearly 300 episodes and films.
Dorn is soft-spoken, wickedly intelligent, articulate, and driven. He's a former professional musician and an active pilot. Others who have worked with him and around him regard him for his class and professionalism. It might be that Dorn was the greatest actor of the '80s-90s Trek era. Any classically trained Shakespearian actor can belt out lines on the bridge of the Enterprise-D. It's what he was trained to do.
But Dorn created a character from nothing. He made Worf from the scraps of dialog that he'd get in the early years of TNG. Gene Roddenberry famously told Dorn to make "the character his own." Dorn did that in spades and helped boost DS9 into a now-classic Trek series. And he did it all through 10 pounds of wig and prosthetics.
In some ways, he's broken free from the yoke of being Worf. He's appeared in many productions as both an actor and a voice artist. Fans can see him now in Derek Ting's Agent Revelation, or they can hear him on Amazon's Invincible.
Many fans know that Dorn has been campaigning for years to get Worf his own ship and his own show. While that appears unlikely, hope remains. What fans might not know is that Dorn is working on a film of his own, which will be a Western.
Dorn is a fan of classic movies from the "Golden Age of Hollywood." He is happy to list off some of his favorites if you catch up with him.
"The original King Kong is really fun," said Dorn. He also lists Errol Flynn's Robin Hood, Casablanca, and the John Ford Westerns that he is a fan of. It may be that Dorn has been working on his film, Quentin Hawks and the Road to Trinidad since he was a small boy.
"It's an amalgamation of a lot of different stories," said Dorn of the film. "And one of the stories in the Old West is about the African Americans and their role."
"[Hawks] is a Pinkerton detective who has decided to leave the country and move to Italy with his family," said Dorn. "And he gets roped into one last job. We all know that when you get roped into that 'one last job,' it could be your last job [ever]."
"He decides that this is 'my last job,' and he goes on this adventure," said Dorn. "There's a twist in it … that I've got to give my manager credit for. I had it in my head, but I didn't write it. She said, 'you've got to write it in there.' And when I did, it just flowed."
Dorn says that he's connected with colleagues in the film business who are ready to work on the Quentin Hawks film.
"I've got my [director of photography], I've got my producer, who I have worked with before," said Dorn. "They are all excited and ready to go. And so now it's just a matter of getting a production company and budgets."
Dorn plans to pull off this problematic movie trifecta — write the script, act in the starring role, and direct it.
"It's not about the ego of doing it — because I love directing," said Dorn. "When you're a director, and you've written the script, and you know the characters inside and out, there's just no question. You have all the answers, and you know what direction it all needs to go. And also, one thing that I must not do, especially with other actors… I know exactly what I want to come out of that scene."
"It's a dream of mine," said Dorn. "I've been very fortunate, but this is always a dream I've had that I've wanted to do. Act, star, write and direct a western."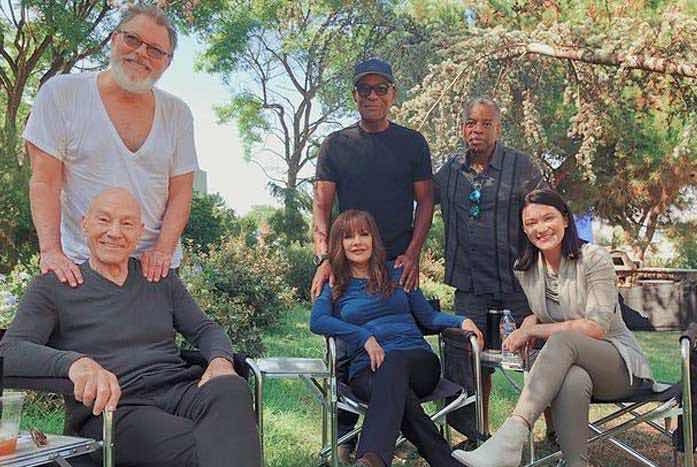 The story itself takes place in Colorado, in a town called Trinidad — not the island off South America's coast. Dorn reflects on his career, and at this point, is in a great position as an actor and filmmaker.
"I only want to work on stuff that I really enjoy," said Dorn. "Luckily, Star Trek and the voiceovers have given me that opportunity to pick and choose."
Speaking of which, Dorn said that it's a mystery to him why the powers-that-be at Paramount/CBS won't work with him on a show featuring his character in a starring role. He's laid out a plan on how a Captain Worf show would look (which you can read more about here).
Even though he's received positive feedback from many in the business, and even some fan petitions, so far, the idea for a Captain Worf show has not taken off.
"I thought it would have been good… I really did," said Dorn. "I thought it would have been different, but still Star Trek."
"It's one of the great mysteries of this business that it hasn't been done," said Dorn. "I don't think we'll ever solve the mystery. There have been several people around the business, that when I tell them that I wrote the script, they say 'Oh, well they have to do it!'"
Dorn has ruled out coming back for just a cameo appearance as Worf, as he is not willing to endure the hours of makeup required to become the Klingon. That being said, much like the attitude of his DS9 castmate, Armin Shimerman, he'd consider a return to Trek in a smaller role. If it was animated.
"Just like any other project that I've done, there have to be a number of things that would have to fall into place," said Dorn. "If those things fell into place, then yes, I would."
While the fans will likely never see a Captain Worf show or Worf appear on Lower Decks or Prodigy as an animated character, Dorn is fine with that. In the end, he says that he's been lucky to have had the run he did with the franchise.
"When I look at my career in Star Trek, if I can't ever do another Star Trek again… I've been very, very fortunate… that I was able to be in the show and to be in Deep Space Nine and to have that whole thing happen and meet the people that I've met. I met the original people and 270 episodes and all the movies … it's a decent career."