Illyria: Betrayal of Angels is part one of a three-part historical adventure based in 16th Century England
Though most of us know him as the character he brought to life on Deep Space Nine for seven seasons, Armin Shimerman is a man of many talents. If you ask him, he'll say that it depends on the day — sometimes he's the actor, or a teacher, and most recently, an author.
Shimerman's new novel, Illyria: Betrayal of Angels, is actually just the beginning act of a three-volume work, some of which he started while wearing his enormous Ferengi ears in his trailer. It's somewhat fitting that the main character of Betrayal of Angels is a fellow who dabbled in many different fields, like Shimerman.
"I'm trying to tell what I hope is a page-turner story," says Shimerman. "At the same time, educate people into the history, politics, religion, and the real-life that dominated their world."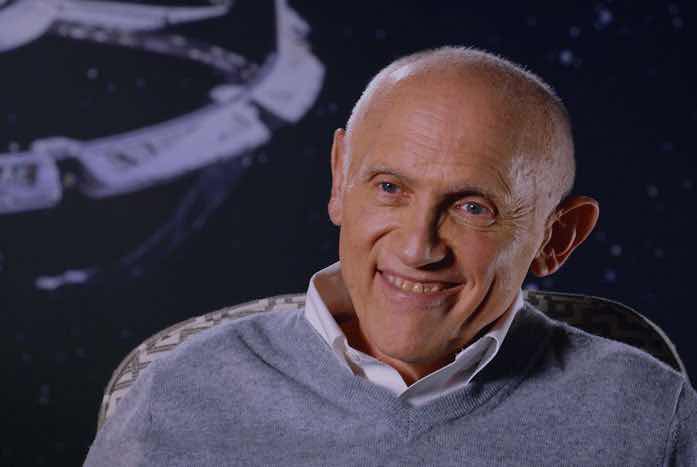 The protagonist's name is Dr. John Dee, who lived in 16th Century England and made a name for himself in magic and science. To us, that might sound a bit odd, but to Dee and many of his fellow countrymen in Elizabethan England, there was no division between science and magic.
Dee was a mathematician, alchemist, and astrologer who served as an advisor to Queen Elizabeth I. In his day, many thought his interest in the occult and mathematics made him a dangerous character. Dee believed that mathematics was the secret code to life's mysteries and attempted to speak to the divine through a crystal.
"He felt that if he could talk to angels, he could get a better idea of what God's plan for humanity was," says Shimerman. "He was trying to better humanity by finding a conduit between Earth and heaven, to find out what God wanted from mankind."
Dr. Dee and nearly every character in Betrayal of Angels are historical figures, and many of them were notorious. These include Sir Francis Walsingham, who served as the Queen's spymaster, and William Cecil, her most trusted advisor.
The book begins with Dee on a journey that will lead him on an adventure involving all of his many skills. Along the way, Dee will meet a young, unknown poet named Will Shakespeare, who will grow up to be the most revered playwright in the English language. Dee grapples with politics, spies, magic, and mathematics through his adventures.
Once you begin the book, you'll soon see that Betrayal of Angels takes the reader in completely. Shimerman paints the entire picture of this somewhat unfamiliar world for his reader. From the very start, Shimerman puts you in Dee's time. And prepared to be delighted by the use of language by the characters that appears to be plucked from the past.
Using the words from Dee's time might sound like an impossibility for those of us who live in a world of texting and abbreviations. Still, for Shimerman, this is a language he's been talking for decades.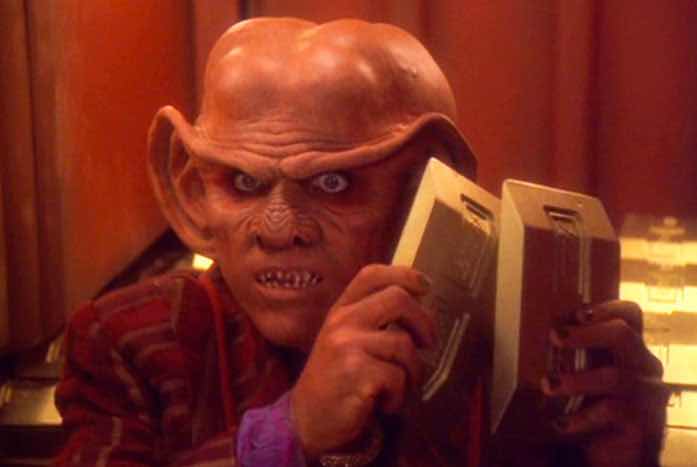 "Most everybody knows me from my television, and I'm very grateful for that," says Shimerman. "But in the present life, and from all the way through my career, I've always performed Shakespeare. I teach Shakespeare, and it's been part of my life every day since before I graduated college."
Shimerman says that through his writing about Dee and his adventures, he's entertaining and educating.
"I do a lot of teaching of Shakespeare to actors," says Shimerman, "and I primarily see myself as a teacher."
"If you learn new words, procedures, or certainly about religion, then that's good!" says Shimerman.

He says that he had always wanted to be an author. Thanks to a few collaborations with established writers, Shimerman was able to get a good start. Shimerman co-wrote two books with Irish science fiction author Michael Scott, and a Star Trek novel with David R. George III, The 34th Rule. That Trek book featured Shimerman's own character, Quark. 

It was through his relationship with Scott that Shimerman learned about the mysterious John Dee. Since then, Shimerman has spent years studying Dee's life and works, and considers Dee to be a man out of place in his era, and quite probably a genius.
"I would consider him an Einstein," says Shimerman. "He knew things through [math and] numbers that other people hadn't thought of. "He was one of those Renaissance guys who was a polymath and capable of doing many things."
In a way, Dee is the perfect character to build a story around. He's equal parts MacGuyver and Nostradamus. Dee must navigate his way through an adventure. At the same time, the country is in fear of an invasion by the foreign powers of Spain, Portugal, and other Catholic-majority nations.
"We kept up the good work, and we knew one day we'd be discovered, and we are grateful for that."
For Shimerman, writing is a very solitary existence. He says that when he collaborated with Scott or George, the writers would bounce ideas back and forth to get to the next part of the story. Writing alone is different.
"The fact that after 20 years people are reading what I've written and rewritten and honing things down… because that's a lonely existence it's gratifying to hear now that [people] like it," says Shimerman. "Acting is not [solitary]. You do that with an ensemble
These days, When he's not writing or performing, you can find Shimerman teaching acting.
"I do a lot of teaching of Shakespeare to actors," says Shimerman, "and I primarily see myself as a teacher."
Shimerman teaches as an adjunct at the University of Southern California and can be found at any local theatre in the Los Angeles area, serving as a Shakespeare scholar for productions. It's something he's done for well over 30 years.
"Even while I was acting, in my heyday, on either Star Trek or Buffy [the Vampire Slayer], I was also teaching," says Shimerman. He says that Betrayal of Angels is inspired by the teaching and studying he's done all his life.
While Shimerman says his "heyday" is behind him, many may disagree. His role as Quark is now cited as possibly the most beloved character on the most improbable oddball Trek show ever devised.
Along with side Nana Visitor, Terry Farrell, Avery Brooks, the late René Auberjonois, and others, Shimerman and his castmates are enjoying a renaissance themselves, as many consider Deep Space Nine to be not an oddity, but the very best Trek show out of them all.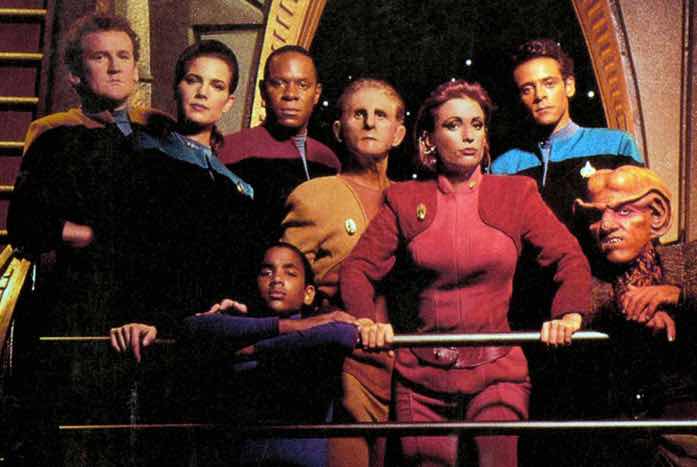 Thanks to Netflix and other streaming services, entirely new generations are discovering Deep Space Nine, giving the show the attention it deserved… nearly 30 years after it debuted.
"I remember telling Nana [Visitor] about five weeks into our run of Deep Space Nine… wait 20 years, and they'll discover us," says Shimerman. "It is a great tribute to the writers, to the actors, the designers, the executive producers. We kept up the good work, and we knew one day we'd be discovered, and we are grateful for that."
"When Deep Space Nine was coming to an end, there was a little bit of chatter — I found out about this years later — of creating a Quark show," says Shimerman.
If The Next Generation and Deep Space Nine launched Star Trek into the 80s, 90s, and early 2000s, it is Discovery and Picard that have the mantle now. Interestingly, Shimerman's Quark was mentioned in the Picard episode, "Stardust City Rag." That implies that Quark is still around and conducting a profitable business, which may mean that soon Shimerman may be called upon to don the great ears.
"If they said to me, would you come back and be a guest star for a couple of episodes — I would say yes — absolutely," says Shimerman. "I would jump at the chance."
Shimerman says that would be it for him. He noted that sitting through the hours of makeup and prosthetics would be too harsh at his age. But there was a time, not too long ago, when the producers of Star Trek though Quark should be at the center of a new Trek show, one where he was the main character.
"When Deep Space Nine was coming to an end, there was a little bit of chatter — I found out about this years later — of creating a Quark show," says Shimerman.
The idea sounds logical, mainly since nearly all of Quark's family were featured on DS9. Not to mention the Grand Nagus and other Ferengi who drifted in and out of storylines. But now, it seems, the window of opportunity for a Quark show has closed. Unless… the show was animated.
"I do a lot of animation," he says. "That would be the best way of all because then I wouldn't have to put the makeup on!
Shimerman's excellent new book, Betrayal of Angels, is available now as a special pre-sale at www.jumpmasterpress.com. If purchased before November 4, fans can get a 20% discount on the book or the opportunity for Shimerman to personally autograph and dedicate the book to the reader. Betrayal of Angels will be officially available on November 5.