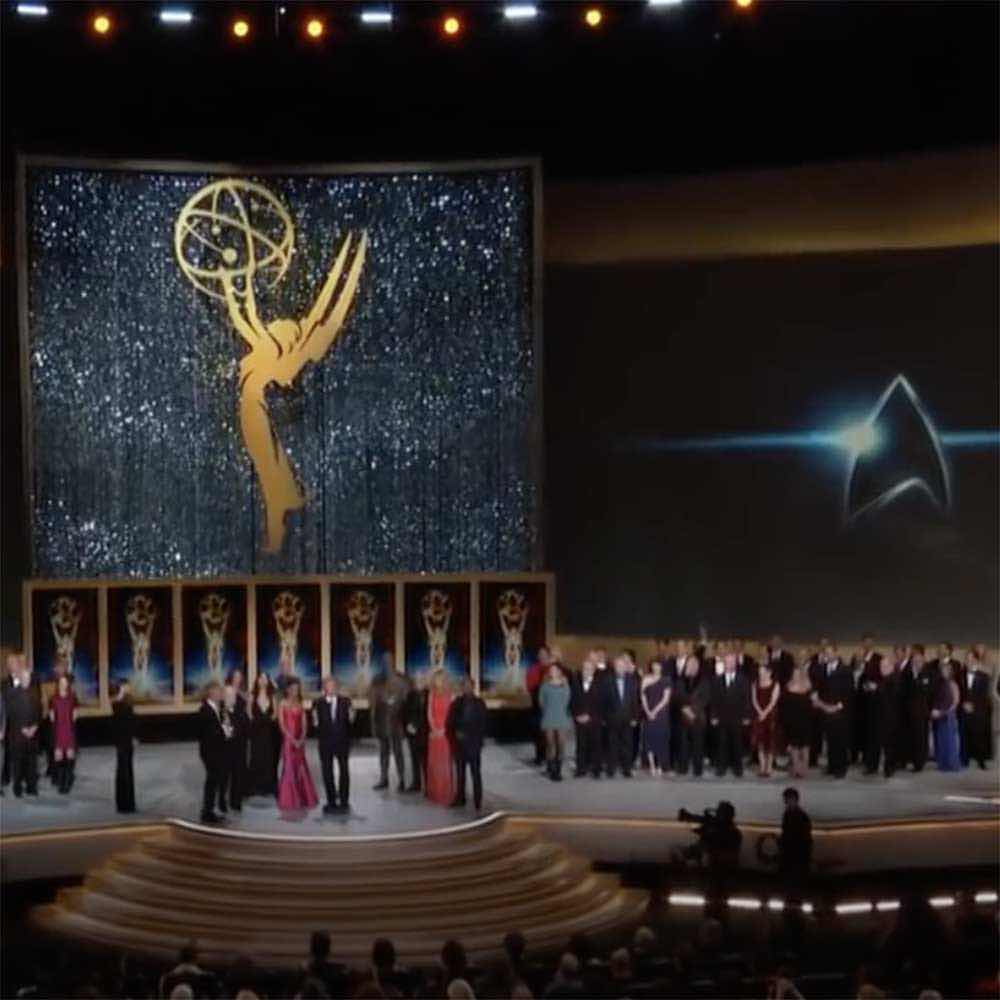 It's Emmy season again, and unfortunately, the same thing that usually happened to Star Trek happened again. Discovery and Lower Decks collected five Emmy nominations this year, makeup, sound editing, and visual effects… but none for acting. How can this be? Why do the Emmys hate Star Trek so much?
On a recent NPR's Morning Edition episode, host Steve Inskeep and television critic Glen Weldon joked that the Star Wars show, The Mandalorian, probably wouldn't get any nominations because the Emmy judges "ignore" sci-fi and genre shows. But that did not happen.
Fans were shocked that The Mandalorian got as many Emmy nominations as The Crown, at 21. They even earned three Emmy nominations for acting. Those nominations went to Carl Weathers, Timothy Olyphant, and Giancarlo Esposito.
The last time a Star Trek actor was nominated for an Emmy was the late Leonard Nimoy. He was recognized with three Emmy nominations for his performance as Spock on The Original Series.
And no Star Trek actor has ever won for their role on any of the series. Some point to the "impressive" 174 Emmy nominations through the decades. A closer look reveals that those mainly were for technical achievement, including special effects, makeup, prosthetics, and sound editing. None for acting.
This 55-year dry spell includes the seven seasons of The Next Generation and the one season of Picard featuring Sir Patrick Stewart. The classically-trained Shakespearean actor is widely considered to be one of the greats. Even he could not muster an Emmy nomination as Picard.
Some fans may call it "unconscionable" that Stewart never was nominated for his performance as Picard. But Stewart worked to get his fellow actors and crew some recognition when it was Emmy time in 2020… but could only muster an "Outstanding Prosthetic Makeup For A Series, Limited Series, Movie Or Special."
The captain Stewart replaced, William Shatner, only found his Emmy awards many years after he left Star Trek. He won twice for his role as Denny Crane on the ABC series Boston Legal.
The one Trek show that has found success with the Emmy awards is Star Trek: The Animated Series, which was honored in 1975 with a Daytime Emmy for "Outstanding Entertainment Children's Series."
The franchise earned a Governor's Award, which, according to ScreenRant, is an award given to a "person, organization, company or project that they deem to have made significant contributions to and/or achievements in television that goes beyond the scope of competitive Emmys."
Fans got to see Sonequa Martin-Green and Shatner together on stage for the first time, surrounded by dozens of other Star Trek luminaries. But the Creative Arts Emmys celebration is not the same as a real Emmy.
It could be that the style of acting required in a Star Trek series is simply unappreciated by those who nominate people for Emmy awards. As all Trek fans know, humans in Gene Roddenberry's vision of the future have changed. They are no longer concerned with monetary gain or the accumulation of "stuff." Instead, the quest for knowledge and acting pioneers for all mankind motivates the characters on Trek. This concept might be too 'intellectual' for the standard Emmy voter to grasp.
In the end, fans of Trek might not care how many awards the various series' have been recognized by such an Earth-centric organization when the show has so many Hugo and Saturn Awards, a Peabody Award, and an NAACP Image award.