When I heard the title of the third episode — People of Earth — it reminded me what the aliens always say when they are getting ready to land their UFOs and take over. They'd tell us to remain calm and that once they met with our leaders, all would be cool. But it never works out that way.
Perhaps this is why the episode was named "People of Earth." Because, in our Star Trek story, things don't quite work out the way they are supposed to.
A special item for us, as it is the first episode of Season 3, which was edited by Chad Rubel. We interviewed Rubel a while back and can tell you that he did a fantastic job.
STARDATE: 865211.3
We join Michael in a series of flashbacks. These scenes how her working and living with Book, as well as training. Her life changed in the year between her landing in the future. While there, she had Aditya Sahil (who we met at the end of "That Hope Is You, Part 1") continue to send transmissions to the Discovery, should they ever show up.
She explained the Burn and how all dilithium exploded, and how that destroyed the Federation. Michael became a courier, like Book and the villainous Zarah in "Far From Home."
NOTE: At this point, we hear Michael explain that she's looking for clues to how the Burn happened, and she accepted a memory card (or something similar) from an alien. This had NCC-4774… this is interesting because the ships with the designation NCC-47— were from the 29th Century (as seen in the Voyager episode, "Relativity").
Through this time, Michael said that she had changed. She also said that she had found a "friend," who was Book. There were no romantic hints in this statement.
Suddenly, Michael got a notification on her device. The next thing you see is Michael hugging and crying with the crew of the Discovery … while Georgiou scowled in the back. Michael caught up with Saru, and they exchanged how they were doing. She told him that she had been a courier with Book.
"You have been a courier?" Saru asked.
"It was the only way to scrounge up any information," she responded. She also noted that she sent a message to Terralysium, and that took months to go through. Those on Terralysium had never heard of Burnham's mother (a.k.a., the Red Angel, as seen during Season 2).
Michael said that she promised Book some dilithium in exchange for his help. Saru said they'd honor her arrangement.
Later in the ready room, Burnham told what she knew of The Burn, which caused all ships with dilithium-powered warp drives to explode. Stamets said that was impossible, and Michael said that millions died on the day of The Burn. She said that she didn't know how much the Federation was still around, but she found a message from an old Starfleet channel.
Bryce played the message from an "Admiral Senna Tal," saying that he'd wait for "any who would join us on Earth." Michael said the announcement was 12 years old and that Earth was too far away to reach (since no warp drives and all). But now, with the spore drive, they could jump to Earth, easy-peasy.
Saru said they'd get to Earth and help Admiral Tal. Michael suggested that they jump to a space … close, but not too close to Earth, so they could say that they were a ship not affected by The Burn. As Stamets started to leave, Saru looked at Michael, implying that they'd need to decide who was officially in charge.
"It's you, Saru," said Michael. "And chain of command dictates it. I don't know if it's ever been me. You brought this ship through time. You carried this crew on your shoulders."
She then walked to the captain's chair and swiveled it toward Saru.
"You are a captain in the truest sense of the word," said Michael.
"It would be my honor," said Saru. He walked over to the chair. "This ship bears the name Discovery. Never has that been more fitting or more prescient. She has carried us into the future, and it will be our privilege to make that future bright."
He held Michael's hand.
"Let us begin — together," Saru said. The crew all said "aye" together.
Soon, Michael and Tilly meet up alone. Tilly cried about the friends they had lost and all the family in the past who they'd never see again. Tilly wondered if there was still anything on Earth they'd recognize, like the St. Louis Arch, the Pyramids in Egypt, or "homemade hummingbird cake."
"Cake is eternal," said Michael. Tilly said that she knew she'd see Michael again, and they hugged and cried. Tilly complimented Michael on her hair and said that Michael seemed "lighter, somehow."
Later, Georgiou beamed Book onto the Discovery.
"You're not Detmer or Tilly," said Book.
"I'd rather kill myself," said Georgiou. HA HA HA! FUNNY!
"You're Phillipa Georgiou," said Book. "Michael warned me about you."
"Did you listen?" asked Georgiou.
"Apparently not enough," said Book.
Book asked where Michael was. Georgiou said, "your girlfriend?"
"She's not my girlfriend," Book responded.
He caught up with Michael in a dilithium storage room aboard Discovery. Book marveled at the amount dilithium. After she gave him what she owed him, Book tried to talk her into leaving the Discovery. She told him that Book should go with Discovery to Earth.
He asked her what she'd get from him going to Earth. She said that his ship could cloak all the dilithium. He tried to get her to say that she wanted him to come along… because she liked him.
"Shush," said Michael.
Michael talked Saru into letting Book's ship onto the Discovery. He noted that she had changed a lot and wanted her to explain. She said that everything they did (jumping 930 years into the future) was a waste of time, thanks to The Burn. She learned to change in her year.
"You're Phillipa Georgiou," said Book. "Michael warned me about you."
Michael reported to a post on the bridge. When Book walked onto the bridge, all sorts of looks were exchanged by Detmer and Owosekun. Discovery used the spore drive to jump to Saturn and get to Earth via impulse drive.
Book was shocked by the spore drive and how the saucer section of Discovery spun during the jump. They soon arrived at Earth, where they were greeted by force fields and vessels. These ships hailed the Discovery, and Saru put them on screen.
"A viewscreen? How quaint. I am Captain Ndoye of the United Earth Defense Force. Your vessel has violated regulation C1922 and F031 of the UE Charter by breaching Earth's perimeter. Leave immediately. You are not welcome here."
NOTE: Captain Ndoye was played by actor Phumzule Sitole.
Saru said that the Discovery was a long-range science vessel for Starfleet, and they were looking for Admiral Senna Tal. He also said the ship survived The Burn because they were not "at warp" during the time. Ndoye noted that they'd need to conduct an inspection to "consider" the request. She said that any evidence of piracy would be dealt with severely. Hearing that, Michael and Book snuck off the bridge.
Just then, a whole bunch of EDF people beamed aboard, weapons drawn. Michael and Book changed into Starfleet uniforms, so he'd blend in. She called him Lt. Booker.
"Aye aye, commander," said Book.
"One 'aye,' we're not pirates," said Michael.
She seemed to enjoy clipping his Starfleet delta onto his chest. He accused her of scheming for some time to get him in uniform on the Discovery. She promised that he'd be back soon.
Georgiou also changed, but she made herself an admiral. Michael walked with Georgiou, who asked why Michael was still on the Discovery. Georgiou said that "this place no longer feels like your place" after Michael's year of freedom with Booker.
"One 'aye,' we're not pirates," said Michael.
Saru summoned Michael to the Ready Room, explaining to Captain Ndoye why they were orbiting Earth.
Ndoye said that Earth basically cut itself off from the rest of the galaxy and had become self-sufficient after The Burn. They have had troubles with dilithium raiders, especially one named Wen. Ndoye also told them that Starfleet and the Federation have not been on Earth for over 100 years. She did not know where they went.
She said that Earth kicked Starfleet off the planet because they were unsure if The Burn was an attack. Having Starfleet and the Federation on Earth made the world a potential target.
"Earth is no longer a part of the Federation?" Saru asked.
"Why should we be?" Ndoye said. "We can take care of ourselves."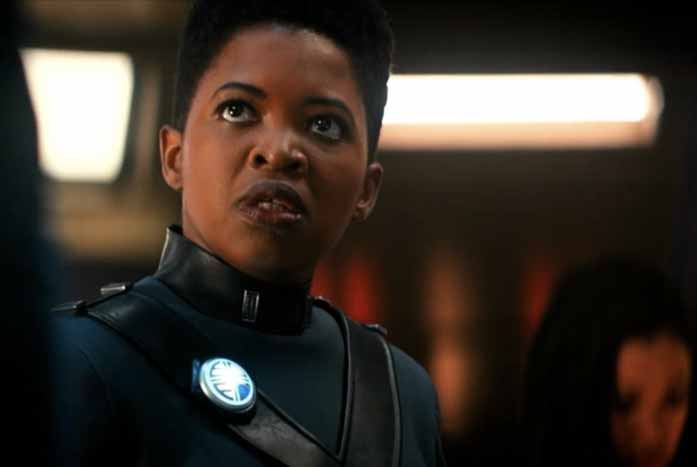 NOTE: This is a direct parallel to U.S. President Donald Trump threatening to remove the United States from NATO. Much like how TOS used real-life situations to inform storylines in their era, the Discovery writers use current headlines in their storylines.
And, oh yeah, Ndoye told them that Admiral Tal was dead.
Meanwhile, in engineering, a team of inspectors from the United Earth Defense Force used miniature drones to scan everything. Stamets yelled at anyone who touched anything. The EDF's Adira (Blu del Barrio) appeared to have installed something, and Stamets yelled at her just as she finished. Adira asked why the "cube" was connected to the bridge. This was the spore drive interface. He explained that it was for experiments related to spores.
"This science vessel's practically a museum," said Adira.
"OK, well, museums are cool, so…" said Tilly.
"That's what someone in a museum would say!" said Adira.
NOTE: Reminder that Blu del Barrio's presence is history-making for Trek, as del Barrio is the first non-binary actor to appear in the franchise. Also, the character Adira is funny as heck. A great addition!
"This science vessel's practically a museum," said Adira.
Stamets, who was annoyed and cranky, asked Adira: "How old are you, 17?"
"16," said Adira while inspecting the spore drive interface. Adira's boss said that it was time to go, and he called all the little drones back — which appeared to be holograms.
Just then, red alert sounded. On the bridge, Ndoye told Saru not to respond to their hails. They were five of Wen's ships. She tried to boss Saru, but he said that she had no jurisdiction aboard the Discovery.
Wen appeared on screen and ordered Discovery to surrender its dilithium. Saru said they had none, but Wen said they did, otherwise, how did they get into the solar system so quickly?
NOTE: This may be one of Neville Page and his team's most impressive looking costumes or designs. Just incredible… and ultimately very disappointing, as you'll see.
Ndoye told Saru that their request to visit Earth was denied. She told them to leave immediately. When she tried to transport off the Discovery, she found that she could not. Something had blocked their tech from working.
She accused Saru of sabotage. Saru got super-angry and lectured her, saying that a Starfleet vessel would never engage in sabotage. She told him to take the DISCO out of orbit, or the EDF would shoot down Wen's ships and cause a war in the name of Starfleet.
Michael got Book (who was trying to get drunk on synthehol from the mess hall replicators) and said she had a plan.
Stamets and Tilly discovered that device Adira installed, which they could not remove. It was this technology that was responsible for the EDF people getting stuck on the DISCO.
Tilly and Stamets marveled at how Adira did pull this off so quickly since the Discovery was so old. Stamets guessed that she did this to buy herself some extra time aboard the ship.
Suddenly, Michael and Book took their ship (with all the dilithium) and left the Discovery. Ndoye did not like being lied to. Saru wanted to hail Michael, but Georgiou stopped him. Georgiou said that this would ruin Michael's plan, as the raiders would think that she was working with the Discovery when she really was not.
Ndoye ordered the EDF to fire on Book's ship. Saru said that he would not allow it.
"United Earth does not even use their dilithium, while the rest of us suffer," said Wen.
Michael told Wen that they had the dilithium. She said to him that she would beam Wen the dilithium if they would leave. Wen did not believe her. Book said that Wen had "quantum torpedoes" targeting his ship. He wanted to retreat, but Michael stopped him.
"Saru doesn't even know what we're up to," said Book. "When he does, why is he gonna come and rescue us?"
"Because he's Starfleet," said Michael.
Ndoye told Saru that "your people" would stand down — or die. She would have the EDF forces fire on Book's ship. Saru ordered that the Discovery move between the vessel and the EDF forces. Detmer argued, but Owosekun affirmed Saru's order.
The EDF torpedoes hit the DISCO and knocked out the shields. As this happened, Michael continued to bargain with Wen. She told him to lower his shields, so they could beam the dilithium over. Wen agreed.
Saru again ordered the Discovery in between the EDF line of fire and Book's ship. Detmer argued (again). As they did, Book's ship cloaked, and Wen's ship powered down their weapons.
Saru told Ndoye to call off the attack, and as she argued that she would not, Book walked onto the bridge with Wen. Michael said that Ndoye and Wen needed to talk. They went to the ready room, and it turned into the blame-game. Ndoye was blaming Wen, who said that it was all Ndoye's fault.
"United Earth does not even use their dilithium, while the rest of us suffer," said Wen.
"You bring your suffering on yourselves," said Ndoye. Georgiou kicked Wen in the back of his knees, which brought him down. She then pulled off his intricate helmet — Scooby-Doo style. We was a skinny, weathered human being.
NOTE: How disappointing. Like I said before, Wen's helmet was one of the coolest things I have seen in a long time. Strange and alien-looking. But underneath, it was just a boring old human. Sigh… Discovery, you could have given us a new, bizarre alien race of bad guys. Instead, we got a man in a mask.
Ndoye didn't realize that Wen (played by Christopher Heyerdahl) was a human. Saru said they needed to talk and stop making assumptions.
In engineering, Stamets told Adira that he knew what happened with the tech. Adira said that there was something beyond what he was telling her with regard to the spore and cube. Adira said that if he didn't tell, then she would report him.
He called Adira's bluff, saying that he was sure that she didn't want the EDF people to know that she caused the problem. He explained the spore drive and that he was the human navigator.
"Are there others like you?" Adira asked.
"There's no one like me," said Stamets. HA HA! Funny!
Stamets admitted they were from the year 2258, but he refused to say any more until Adira fessed up on her story. Adira noted that she became an EDF inspector, hoping that she'd find a Federation ship. The sabotage so she could have more time onboard. She wanted to join them. She also admitted that she was behind "Admiral Senna Tal."
Wen said that he was from a colony on Titan, and when they reached out for help from Earth, they were fired on and destroyed. Ndoye defended that move, citing "self preservation."
"There's no one like me," said Stamets.
They agreed to discuss terms for some sort of agreement.
Ndoye thanked Saru for helping negotiate and said that the DISCO crew could visit Earth. Ndoye also gave Adira permission to remain onboard the Discovery.
In his ready room, Saru told Michael that Adira had been joined by a Trill symbiont, but she was still human (and not a Trill). No spots on Adira. Michael said she'd seen Trill at the exchanges but was not aware of the symbiont. Saru said the sphere data (the vast amount of information they gained from an alien intelligence during Season 2) explained how the Trill and the symbiont lived.
NOTE: For about seven years of background on the Trill, please watch Deep Space Nine.
"The symbionts are a sentient life form," said Saru. "And extremely long-lived. Once they join with a host, that host has the ability to access the memories of all former hosts."
"Including Admiral Tal's," said Michael.
Saru said that she had difficulty accessing the memories, perhaps because she's human and not Trill. But she may know what happened to Starfleet.
Michael apologized for not telling Saru her plan. And she said that she needed time to work through some issues, but she accepted his offer to be second in command.
She said goodbye to Book, who was going to work in this quadrant. He winked at her and boarded his ship.
On Earth, a group of Discovery crew went to the former Starfleet Academy site in San Francisco. They walked to the massive, old tree, which many used to study at. Saru called down to them, saying that it was time to leave, as they needed to search for Starfleet Headquarters. Tilly asked for five more minutes, and he granted them that extra time in the sun.
The camera drew back from the tree into the sky… and we heard Alexander Courage's iconic Trek theme! YAY!
TREK REPORT SUPPLEMENTAL:
Wow! A great episode. I always want more strange aliens, rather than humans with metal on their heads, but otherwise, this was really, really fun.
I wonder what will come from Adira and Stamet's relationship. It could turn into a mentor/teacher thing for Stamets. That would be nice, and perhaps he'd calm down a bit if he knew there was a young person watching and learning from him.
Earth must be a crappy place in that era. In our time, if a boatload of Russians were to be thawed out of ice from the year 1,000, our scientists would want to test the heck out of them, and the questions about their life would never end. They would also likely be put into a fake reality, so they would not know they lived in a different time (much like we saw in Captain America: The First Avenger). These Earthlings just wanted them to leave.
One final point — what is going on with Detmer? I guess we'll find out.
RATING: 4 out of 5