The great Brent Spiner, who was Data from Star Trek: The Next Generation, finally saw the curtain close on his famous android character. In an emotional scene during the season finale of Star Trek: Picard, Data finally is able to rest for good. In real life, we'll probably see Spiner again on Trek as one Soong or another. But, in an interview with SyFy, Spiner said that he could see a future TNG reboot:
"I've loved the recent movies," Spiner said of the Kelvin series, produced by J.J. Abrams. "I think that sooner or later, they're going to do a reboot, a motion picture version of Next Generation, and cast some young guys in our parts."
That is a fascinating idea! As many have argued, The Next Generation, being Gene Roddenberry's second attempt at creating the utopian future, is viewed by many as the better of the two series he created. Those are fighting words for many, but we can all agree that TNG had more latitude to tell stories, no distractions from a network (since the show was syndicated, there was no network), and a larger budget to create their show.
That being said, Spiner's suggestion for a TNG reboot is so exciting, that we could not resist casting the main crew for a new series of films. Please remember, this is pure fan-fic speculation, and as far as we are aware, there are no real plans for any TNG films in the future. And also keep in mind, since this is opinion-based and will likely never happen, there is no "salary cap" for this cast. Even if Paramount decided to make a TNG reboot, they'd never be able to afford this cast. Unless Jeff Bezos cast himself as Picard and offered to bankroll the entire series…
Wesley Crusher
We couldn't think of a better person to play young Wes. Tom Holland the go-to guy now for that teenager / early 20's white guy. We got to know him first in the Marvel films as Spider-Man. He appeared in the role first in Captain America: Civil War, but he's also appeared in a ton of other places. This includes the recent Netflix film The Devil All The Time and Apple's Cherry. We think he could float in and out of scenes as needed, and would do especially well if the Enterprise-D were invaded by the Borg.
NOTE: If Tom's not available, we'd try to cast Timothee Chalamet. Again, no budget here. If we want to go younger, how about Noah Schnapp from Stranger Things.
Dr. Beverly Crusher
Dr. Beverly Crusher is not only the rock that holds the crew together — just remember how grouchy everyone was during TNG's Season 2 — but she's also Captain Picard's main love interest. She's Wesley's mother, and one helluva dancer. She couldn't have been cast better than with the fantastic Gates McFadden. But for a film adaptation of Next Gen, we'd bring in a star from the A-List — Christina Hendricks. She's known best for her starring role on AMC's Mad Men, but is now the star of the NBC comedy Good Girls. We think Christina could easily ace the role, she'd also get butts in seats.
NOTE: If Christina is unavailable, we'd suggest the equally red-headed Bryce Dallas Howard, who we'd lure into the production with the promise that she'd be able to direct the second film in a three-picture series.
Mr. Data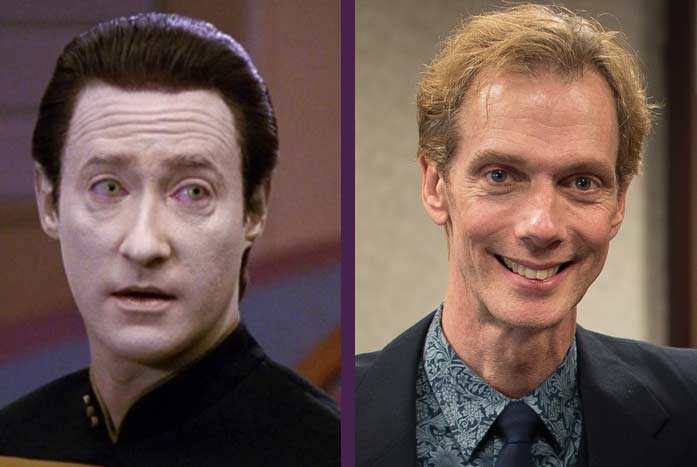 This is really not fair. It's like you're the coach and you have to assemble a football team to win the "big game," and you've got Tom Brady sitting on the bench. Doug Jones is that great. He can do it all, as he's proven time and again with all of his award-nominated roes through the years. We think he could shed his Kelpian skin and get pale to play Mr. Data.
NOTE: If Mr. Jones is too busy with some other role in Trek (or elsewhere), we'd like to get Hamish Linklater. This guy is a wonderful, veteran actor, who can be seen weirding everyone out on Amazon's Tell Me Your Secrets.
Counselor Troi
OK — please do not be alarmed with our pick to portray Counsellor Deanna Troi. We think that Mary Elizabeth Winstead would be a great choice to bring the half-Betazoid to the silver screen in a TNG reboot series. Winstead has made a name for herself as a reliable, solid actress, appearing in such films as Scott Pilgrim vs. The World, the DC hero movie Birds of Prey, and Live Free or Die Hard. Winston can certainly do this. And for those of you concerned about her hair? She can borrow the wig from Ms. Sirtis, who finally returned it to CBS after filming Picard.
NOTE: If we want someone with the hair, then we could cast Alexandra Daddario as an emergency backup.
Mr. Worf
This is just perfect. We all saw Winston Duke in Marvel's Black Panther, and he played the dad in the horror film Us. Duke has the voice, the build (he's 6'5"), and the talent to take the mantle from Michael Dorn in a TNG reboot film. Can we request that Worf be able to kick more alien butt in this movie than he did on TNG? We saw Worf holding his own — and even dominating later on Deep Space Nine, as it should have always been.
NOTE: If Duke is not available, why not sign Kash Goins, who appeared in Split and Creed. He's also an accomplished playwright, so if there are some rewrites needed on set, Kash can pitch in. As long as he doesn't do his re-writes in Klingon.
Tasha Yar
This is a no-brainer. Mackenzie Davis should demand that Paramount green-light a TNG reboot film so she can play Tasha. In the sci-fi thriller Terminator: Dark Fate, she played a woman trapped in a terrible future, who becomes a fighter to save those who cannot defend themselves. WOW! That's awfully close to Yar's origin story. In the film (which wasn't as bad as all the critics say it was), she did great with all of the required action scenes. Davis would be a great Yar, even if she's only in one of the films (thanks to a run-in with a terrible oil monster).
NOTE: If Davis is booked, then how about Bojana Novakovic?
Geordi La Forge
Another reason why Paramount should pull the trigger on a TNG reboot series — actor Jovan Adepo is probably still under contract with CBS. Adepo starred as Larry in CBS All Access adaptation of Stephen King's The Stand, which aired just recently. Adepo also appeared on HBO's Watchmen, as "Hooded Justice." We think that with enough practice, Adepo could belt out the technobabble required to play the engineer.
NOTE: If Adepo is busy, then let's get Daniel Kaluuya, who appeared in Black Panther and the horror film Get Out.
Will Riker
He's not a household name, but we think that Alexander Skarsgård would be a great Riker. This guy can be anybody. He was Tarzan in 2016 and the Devil in The Stand (opposite of Jovan Adepo). In The Stand, the Swedish actor showed off a range of styles as his character was seducing the city of Las Vegas. Certainly, he could pull of seducing Mary Elizabeth Winstead… or perhaps just charming her.
NOTE: If Skarsgård is not able to join the crew of the Enterprise-D, then we'd go after fellow Swede, Joel Kinnaman. Mr. Kinnaman is comfortable in both heroic roles (like 2014's RoboCop), and pure science fiction (like in the Apple series, For All Mankind).
Jean-Luc Picard
Give me a second to explain. I know everyone wants James McAvoy to play Picard. Even though this is not a real thing… people want it because McAvoy played the young Professor X after Patrick Stewart stepped away from the role. It would be cool. But haven't we seen that enough? Why not give Simon Pegg a shot… he's a Trekkie, and he pulled off Scotty very well in the Kelvin films. But, in fact, Pegg is already saying that he'd love to play Picard in a reboot. It's true! Pegg is versatile and would certainly be up to the challenge of commanding the Enterprise-D.
NOTE: OK… if Trek fans across the world burn their command-red pajamas over this casting move, then may we suggest Ralph Fiennes. Yes — that Ralph Fiennes. The guy who played Voldemort.